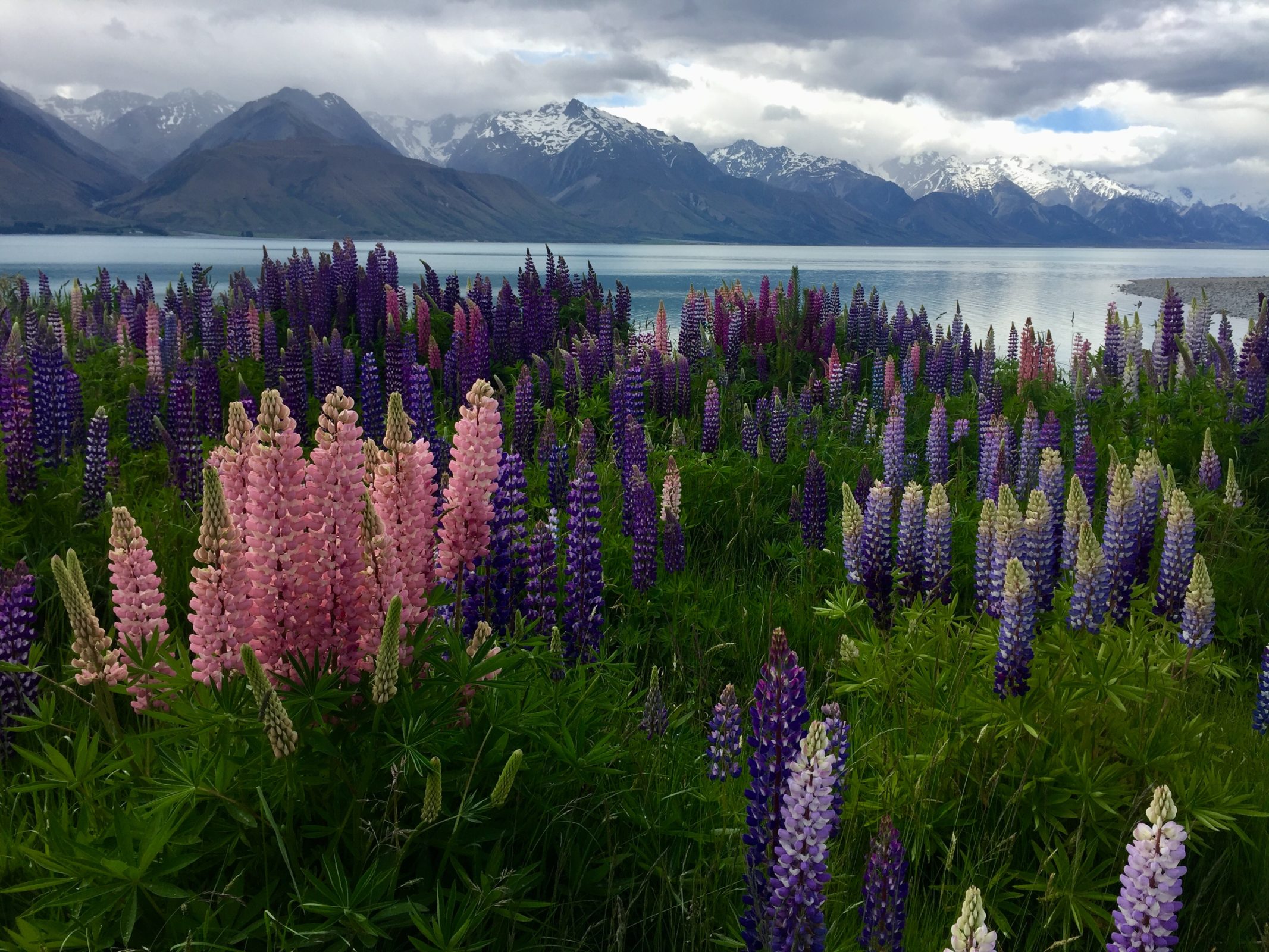 Lupin Flowers in Lake Tekapo bloom with delight come November
Lupin Flowers in Lake Tekapo are one of the highlights for visitors to the Mackenzie Country New Zealand
Lupin flowers in Lake Tekapo are one of the prettiest and most sought after times of the year to visit The Mackenzie Country. In fact some of the most seen images of New Zealand often include landscapes with immense varieties of deep purples, pinks, yellows and soft violets across snow covered peaks and emerald blue lakes. Lupin flowers are in full bloom in The Mackenzie Country's mid spring to early summer in the month of November in the Southern Hemisphere.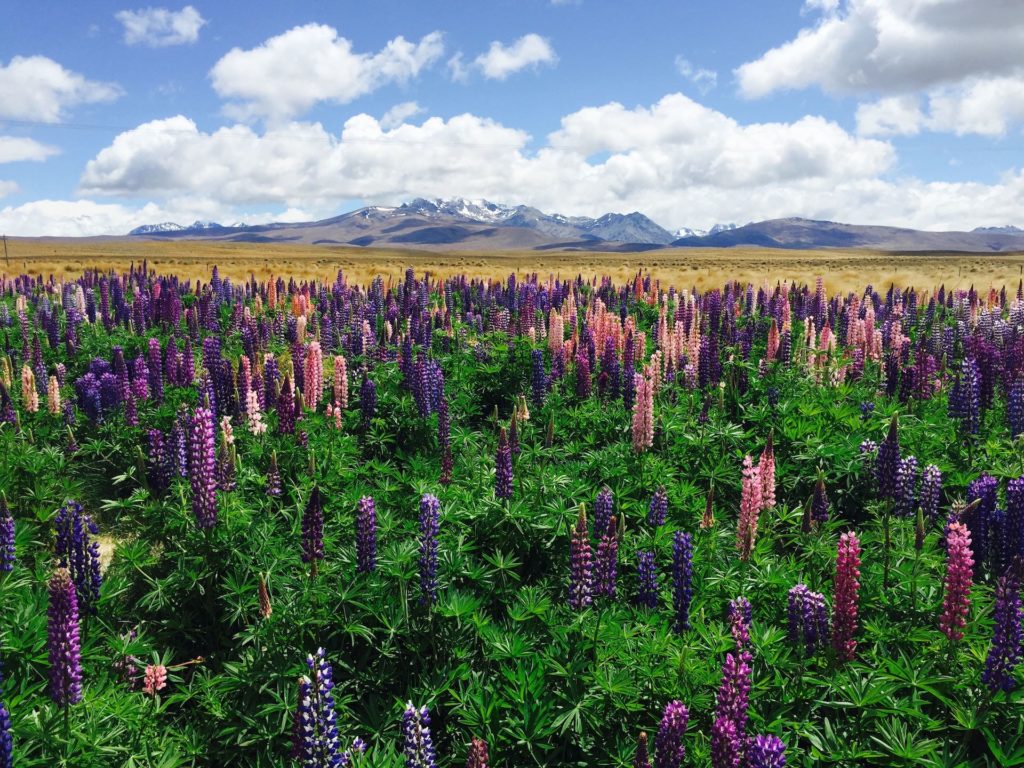 The best time to view Lupins in New Zealand is November in Lake Tekapo
Lake Tekapo has many season's of breathtaking beauty, but come November you won't be able to even comprehend what spectacular colours mixed with outstanding landscapes has to offer you. Often people see photos of lupin flowers in other Worldly like settings, and ninety percent of the time, its in Lake Tekapo's Mackenzie Country or further South in Central Otago. Lupins are an actual pest in New Zealand, and their seeds spread by the wind, laying in fields and river beds. Although Lupin Flowers in New Zealand are a highlight for tourists, their also a nightmare for many, depending on who you talk to. Lupins are thought to be a threat to already endangered wading birds, that often nest on river beds. As lupins grow tall, they act like a visual barrier for predators often looking for their next prey, such as the helpless wading birds. Some high country farmers actually grow fields of wild lupins, for their Merino Sheep to graze in. Thats one of our favourite places to venture during spring time in New Zealand, is through patches of wild lupin flowers that are set on private high country- so you can get the best photographs of these beautiful flowers and Lake Tekapo.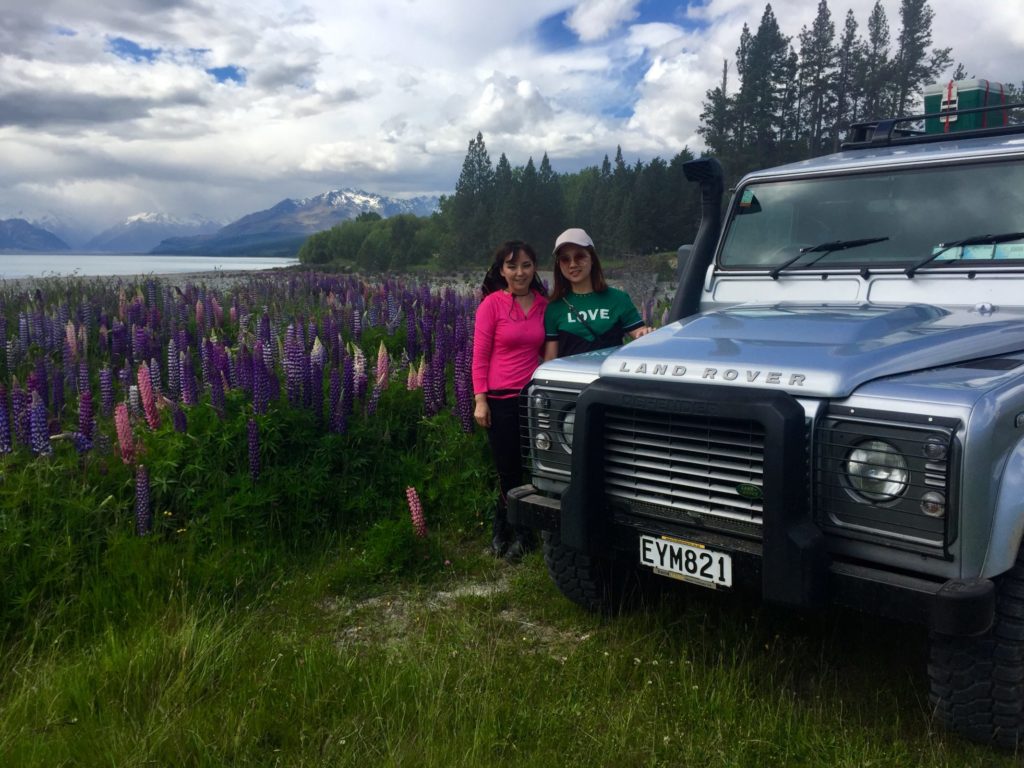 Lake Tekapo photograph Lupins and Merino Sheep all at once.
Heavily populated places take away from the naturalness and wonder of the surrounding landscapes. Lupin spotting in New Zealand can be quite a hazardouse time on the heavily visited tourist areas, such as Lake Tekapo. However our lupin flower tours offer an escape into natural private fields of them, where you can admire these wildflowers at peace. Travel for us means venturing where no one else is, away from the "noise" of it all and into the depths of what makes an area so special. By having exclusive access to some of The Mackenzie's most beautiful High Country Sheep Stations, we offer travellers a unique experience to explore scenery and viewpoints they wouldn't otherwise be able to see on their own. Our tours deliver a slice of authentic New Zealand High Country, where people can connect with the true nature of the Mackenzie Basin.
Our Scenic 4WD tours offer lupin spotting visitors to The Mackenzie Country, a unique vantage point of some of the best places to capture them on camera. With private access to fields of wild growing lupins and roaming Merino Sheep, your sure to get the best photos of this popular time to visit Lake Tekapo and New Zealand's Mackenzie Country.
Our Lupin Flower Tours in Lake Tekapo are on offer from November – December.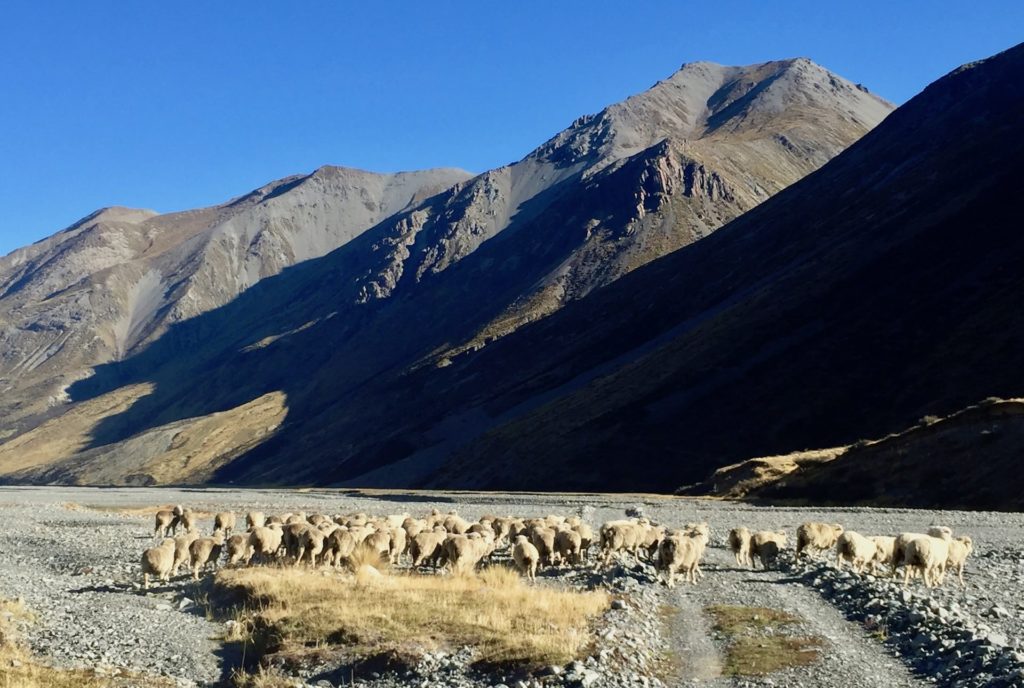 "Experience The Outstanding Natural Landscapes Of The Mackenzie Country"
Join us ! Tours Depart Daily From Lake Tekapo
CONTACT US VIA EMAIL TO BOOK YOUR LUPIN PHOTOGRAPHY TOUR
Email: info@tekapoadventures.com 
PH: +64 20 4156 4900  (020 4156 4900)