Cass Valley Backcountry Tour
$279
per person
Cass Valley Backcountry Tour is an authentic comfortable scenic 4WD tour through the high country wilderness of the Mackenzie Country. This journey offers breathtaking landscapes travelling through Glenmore Station, one of New Zealand's finest Merino wool providers and incredible High Country Stations. Private entry offers remote access to the remarkable backcountry and outstanding scenery of The Cass Valley. Journey on an incredible Mackenzie High Country experience by scenic 4WD tour into Lake Tekapo's legendary natural landscapes. Discover towering mountains, glaciers, river crossings and incredible scenery, while learning about the unique geology, ecology and history that formed this part of New Zealand's South Island. Enjoy this wonderful Tekapo tour into The Mackenzie Country's isolated wilderness for the highlight of your time in Lake Tekapo. Everyone just loves it.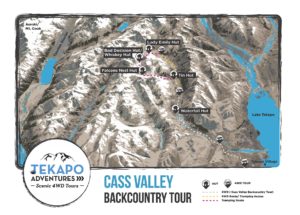 Cass Valley Backcountry Tour Highlights
Private access to some of New Zealand's most beautiful high country on our Cass Valley Backcountry Tour.
Remote backcountry scenic 4WD tour Of Glenmore Station and The Cass Valley wilderness.
Also, experience stunning natural landscapes unique to the Mackenzie Country.
In addition, enjoy our Glenmore Station Farm Tour
See Merino sheep, Big Horn rams, Angus cattle, and Red deer.
Explore the crossroads of nature — river and stream crossings.
Further, visit and photograph backcountry Musterers huts.
View breathtaking waterfalls, glaciers, moraines, and big snow capped mountains.
Finally, enjoy the chance to view endangered wading birds such as Banded Dotterels, Black Stilts, Wry Bill, and other species.
Learn about the unique outstanding landscapes, history, ecology & geology
Refreshments and snacks
The Cass Valley is an alpine river valley northwest of Lake Tekapo and Glenmore Station is a very large sheep and cattle station that starts from the banks of Lake Tekapo. A spectacular location, it is in the Canterbury Region of South Island. It rises in the Hall Range immediately below Rankin Pass, and also receives water from the nearby Huxley Glacier.
The route up the Cass Valley passes close to the Glenmore homestead and works its way up the braided Cass river. Similarly, it passes true right of the river toward a popular ski trek. In season, this is the well-known ski tour loop, "The Scorpion."
The Cass River is named for Thomas Cass, Chief Surveyor of Canterbury Province from 1851 to 1867.
Children pricing is $229
Duration

Departure

AOTEA GIFTS | Tekapo Township

Departure Time

1:00 PM October - June
10:00 AM June -September (Winter Season)

Dress Code

Casual, Comfortable, Stable Footwear, Warm Jacket, Hat, Sunglasses, Camera

Included

Driver

Educational Tour

Light Refreshment

Light Snack

Not Included

Tour Notes

There will be opportunities for photos and breathtaking vistas to enjoy. Light walking to close proximity viewpoints for photos, so stable footwear is recommended.
About Glenmore Station & The Cass Valley
Glenmore Station is an Iconic New Zealand High Country Sheep Station In the heart of the South Island's Mackenzie Country. Glenmore is situated on the Western shores of Lake Tekapo, and runs deep into the Cass Valley wilderness, bordered to the West by the Lieberg Range. Will & Emily Murray are the 4th generation of the Pioneer Murrays to run this beautiful station which has been farming Merino Sheep since 1912. Its stunning 19,000 hectares in size, is home to 10,000 Merino Sheep, Merino Studs, Angus Cattle and Red Deer.
This breathtaking High Country has been recognised for supplying the World with some of the finest Merino Wool on offer, including the supply to the famous "Icebreaker" Brand since the start. With more than 19 years of continued Merino Wool supplying, this station encompasses New Zealand at heart in many ways. Glenmore Station also holds an immense amount of Natural Landscape Values that are Unique to the Mackenzie Basin. Our 4WD Scenic Tours on this station will allow you to experience the outstanding array of stunning landscapes and natural features, unique to the Mackenzie Basin itself.
The Cass Valley is situated on the western side of Lake Tekapo, offering a world of Natural wonder and beauty. Access to this stunning alpine valley is solely through Glenmore Station. The Cass Valley Encompasses a large block of mountainous country, containing high inherent landscape values of The Mackenzie Country. The overall naturalness of the rocky steep scree slides, the U-shaped valleys carved by glaciation, waterfalls, glaciers, lateral moraines and tussock- clad terraces, overwhelm the senses and ignite the wonder of such a supremely stunning and unique landscape. The Cass Valleys braided river system and Delta is also a special environment for some of New Zealand's most endangered nesting birds such as The Black Stilt, The Wry Bill, The Black Fronted Turn, The Banded Dotterel, The Black Billed Gull and the Oyster Catcher.