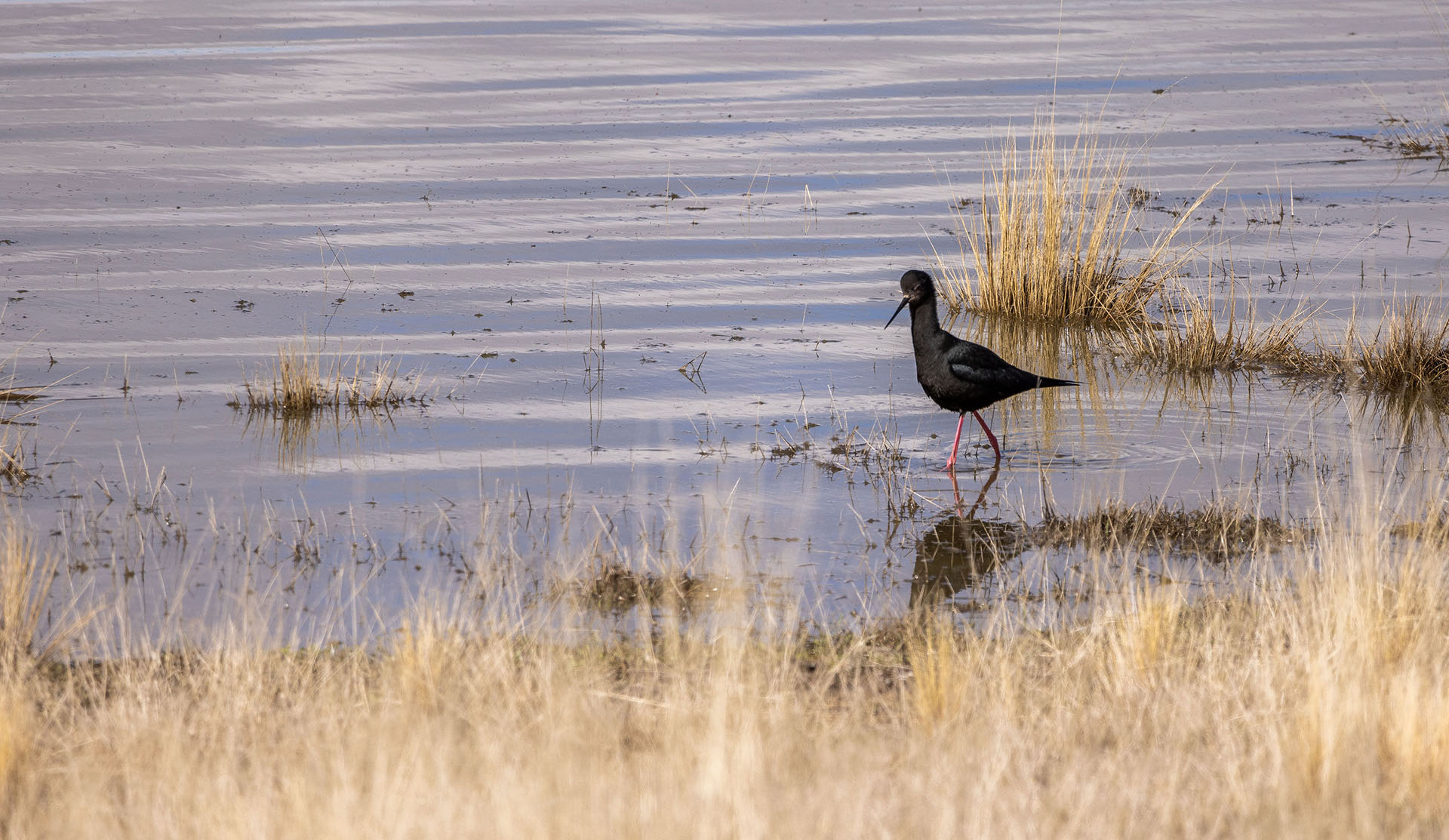 The Best Place to See a Black Stilt – Kaki
The Black Stilt – Kaki is a critically endangered wading bird which is both native and endemic to New Zealand. But why is the Black Stilt so critically endangered, what is its habitat, and how can you see this stunning bird in the wild? Read on to discover more about this little-known member of New Zealand's world-famous native bird family.
Skip to:
Where to observe the critically endangered Black Stilt – Kaki
The critically endangered Black Stilt – Kaki can be observed in the wetlands of The Mackenzie Basin and the Upper Waitaki Regions on New Zealand's South Island.

How many are left in New Zealand?
Considered the rarest wading bird in the world, there are said to be only 147- 170 left in the wild.
During the 19th Century, Black Stilts were fairly common in New Zealand. However, by 1900 they were rare in the North Island and by the 1940's breeding was only confined to South Canterbury and Otago, and now strictly confined to The Mackenzie Basin. They are a rare and special sight to see.

Why are they endangered?
The decline of the Black Stilts was largely caused by introduced predators and habitat destruction. Nests and young are very susceptible to predation by feral cats, polecats and Norway rats & stoats.
Vulnerable features of this species include nesting in areas and at times of high predator densities, solitary nesting, poor reactions to predators and long fledgling period, and ineffective distraction displays.
Other factors have directly or indirectly increased their vulnerability. These include:
Draining of swamps and ponds, thereby forcing birds to nest in margins areas where there is less food for chicks and an increased risk of predation.
Loss of the braiding pattern on many riverbeds caused by artificial channelling, water diversion and abstraction. Fewer channels not only mean less food is available but also results in fewer islands where the birds are somewhat safer from predators.
Hybridization with pied stilts. Black Stilts (mostly males) interbreed with Pied Stilts and Hybrid stilts, resulting in reduced chances of a bird finding a potential Black Stilt mate in the same locality at the same time.
Conservation
Efforts to save the these birds from extinction centre on captive breeding, protecting birds in the wild and researching ways to implement long term management. Egg manipulation and breeding efforts are performed by both The Wildlife Service & Department of Conservation.
Existing nests and habitat within The Mackenzie Basin are protected from predators, by rings of traps. Traps on private land – such as Glenmore Station – are monitored and revised or altered by a variety of parties such as the Department of Conservation, landowners and Tekapo Adventures staff.
Many of the conservation efforts are funded generously by The Royal Forest & Bird Protection Society. Tekapo Adventures donates funds for management with the station owners to help protect the Black Stilt habitat, by means of planting native plants near surrounding feeding tarns and swamps that are protected from livestock.

What is the best time of year to observe Black Stilts?
Black Stilts generally appear on the breeding grounds from during New Zealand's spring and summer months of late-August to December/January. Breeding grounds are located around the Cass River, Godley & Macauley braided river systems, and some pairs like to nest in nearby ponds and swamps.
During the summer season from December – March they tend to move, spending their time at drying up tarns and ponds. In the late fall & winter season they gradually move to the river deltas.
Were very fortunate on our Cass Valley Backcountry Tours to view Black Stilts quite regularly from November to March, mainly around private alpine tarns found on the High Country Stations we partner with.

How to identify a Black Stilt
Found only in New Zealand, the Black Stilt is a long legged member of the Avocet and Stilt family. It has shorter legs than all other stilts and is more robust in build. Adults always have black bills and crimson legs, never a red bill like the Black Oystercatchers – which is sometimes mistaken for a Black Stilt.
What is their natural habitat?
The Black Stilt resides in a variety of wetlands of The Mackenzie, provided that there are high densities of invertebrate food. The Black Stilt – Kaki is regarded as mainly a riverbed bird, but can be seen commonly in alpine tarns, swamps and such.
During stable river flows, much foraging is carried out in mid-river, but during floods the nearby streams and swamps become crucial feeding areas for both adults and chicks.
What is their diet?
The Black Stilt – Kaki are mainly insectivore, preying on a variety of aquatic invertebrates, but bullies and glands are frequently taken too. The usual feeding routine is to walk moderately fast through water of up to belly depth and peck at visible prey such as mayfly larvae and water boatmen.

Discover the Black Stilt with private access to the braided rivers of the Cass Valley.
Discover the remote reaches of some of the Mackenzie Country's best landscapes while also capturing wonderful experiences of the worlds most endangered wading bird – the Black Stilt.
Our scenic Tekapo Tours allow access to private areas just minutes away from Tekapo township – yet right in the heart of some of the Mackenzie's most remarkable environments and Black Stilt habitats.
Our Black Stilt Tours offer a variety of opportunities to photograph the Kaki and learn about the rich history, geology and environment these unique birds call home. We are one of New Zealand's only Black Stilt touring companies, offering guests a wonderful up-close journey to view Kaki in the wild.

Join us on a Black Stilt – Kaki tour!
Email: info@tekapoadventures.com 
PH: +64 20 4156 4900  (020 4156 4900) 
"Experience The Outstanding Natural Landscapes Of The Mackenzie Country"